The pleasure of getting together at KENZI ROSE GARDEN!
The hotel provides excellent conditions for your meetings, conferences and other events.
A state-of-the-art conference center with recent trends, offering a range of meeting rooms that can accommodate up to 1,000 people… in a majestic setting at the heart of its fabulous park.
For additional convenience, the conference center has a separate entrance..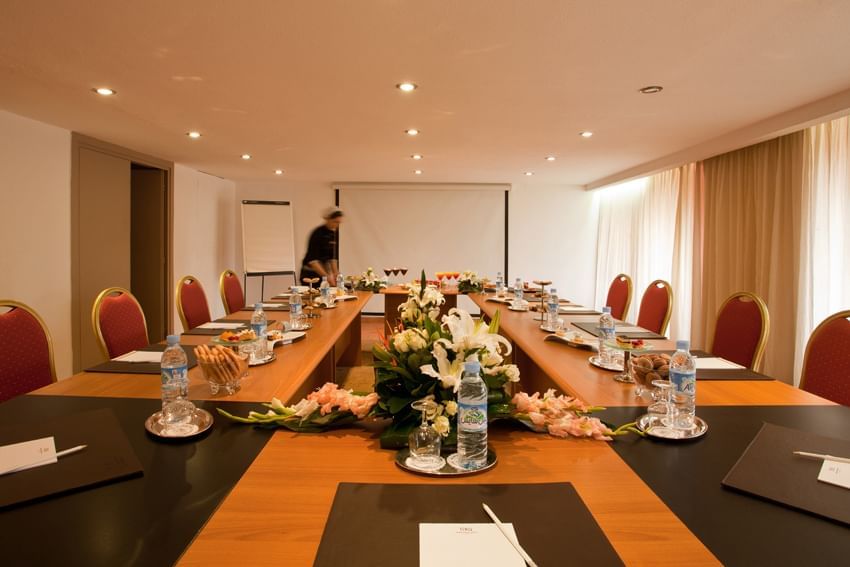 The Conference Room with a capacity to host in style up to 1000 participants. The room is an equipped theatre, with movable partitions, soundproofed, and may be divided into up to four rooms and adjusted and personalized to customers' requirements. For your exhibitions and workshops, there is a 256 square meters Exhibition Hall, for their customized lay out tailor-made to specific needs.
Also, readily available are 8 smaller meeting rooms, for board of directors, sub committees or other activities, each holding between 12 to 20 people, together with a Secretary Pool at the disposal of the organizers. This comes with all cloakroom facilities and amenities, optional direct dial telephone and Wi fi broadband high-speed internet connection, on request.